Post by Jenny on Jul 1, 2014 21:22:16 GMT -5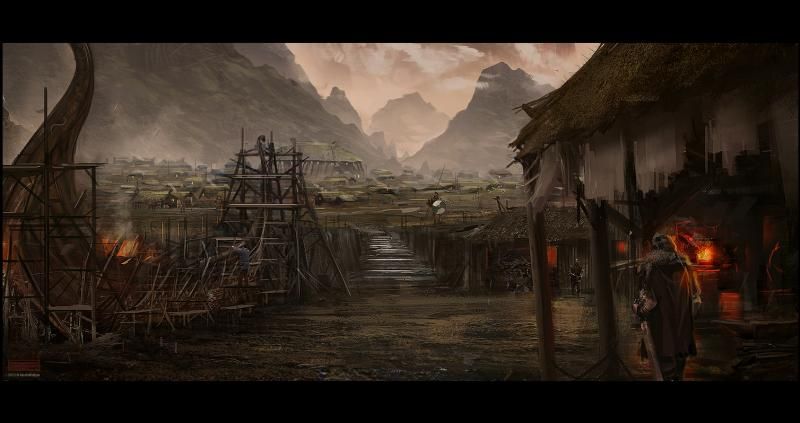 The port of Bjorvig was a flourishing hub along the south of Norway along the Baltic Sea. The shores were littered with huge constructs of great ships, clusters of net makers and menders taking shelter from the driving rain beneath roughly made lean-tos while they waited to cast out for herring, if they were not already at sea, and wooden platforms where thralls coming in from Viking raids were bartered for and bought, led away tied to the horses of the karls to meet their fate at the whim of their new masters.
The tang of salt in the air was mixed with the sharp smell of fish, the stink of slaves kept in the bowels of the ships as they traveled homewards, and the earthy smell of horses. The sound of hammers building the immense ships, pounding newly wrought iron nails into the wood or knocking wood into place created a rhythm. A master carver used his tools to christen the prow of one ship that would bear the names of a lover or a god. The fires of the blacksmith hissed as spattering of raindrops pushed into their shops by the wind in tune with the rise and fall of hammer against anvil. There were some that lived along the shoreline – the slave masters, a spattering of fisherman, and the blacksmith all housed there.
Farther from shore, where sand gave way to rich black soil and emerald green grasses, patchwork-shaped fields were left to fallow during the summer months. Closer to the tree line were smaller fields growing cereals to feed the livestock in Autumn that were not chosen for slaughter. For half the year, cattle, sheep and goats were allowed to free graze in the valley. Settlements were spread across Halldorr's lands, most of them isolated clusters of buildings, stables and houses built from wood and peat.
Slaves and farmhands tended massive fields of barely and wheat. Close to the houses were vegetable gardens, pig sties, built downwind, and buzzing hives of bees, the honey harvested to make mead, and here and there were clusters of grape vines for potent Bjórr, the favored wine of the local people. The bleating of goats and the hoary grunts of pigs often permeated the air, with whinnies of hearty horses in the stables. But for now, with the rain, there was a soft silence, as if the dark rain clouds hushed the sound and stifled noises into shirring whispers.